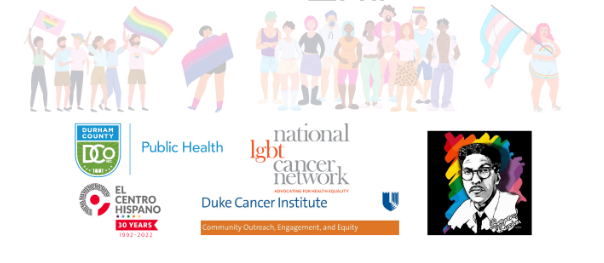 Moving the Conversation Forward: LGBTQ+ Cancer Care Inclusion Webinar
Conversations with Our Community Webinar Registration (Inscripción a nuestro webinario comunitario)
Date & Time: April 5, 2022 from 6:00pm –7:30 pm EST/3:00pm-4:30pm PST (comunitarioFecha y hora: 5 de abril de 2022 de 6:00pm a 7:30 pm EST/3:00pm-4:30pm PST)
Moderators/Moderadores:
Shaun Jones


Graduate Student/ Estudiante graduado
UNC Gillings School of Global Public Health/ UNC Gillings School of Global Public Health

Alex Cordova


Executive Director/ Director ejecutivo
Lila LGBTQ Inc./ Lila LGBTQ Inc.
============================================
In 2020, The National LGBT Cancer Network launched OUT: The National Cancer Survey, one of the largest-ever studies of LGBTQI+ people with cancer. In 2021 the first sub-report was launched with a webinar presenting key findings from transgender and gender non-conforming individuals. (En 2020, La National LGBT Cancer Network publicó la Encuesta Nacional sobre el Cáncer, uno de los mayores estudios jamás realizado de las personas con cáncer de la comunidad LGBTQI+. En 2021 se publicó el primer informe con un webinario en el que se presentó información clave referida a individuos transgénero y de género no conforme.)
Please join us for a viewing of this presentation, followed by a panel discussion on the barriers faced by sexual & gender minorities in accessing cancer care and why these barriers exist. We will be identifying concrete tools to incorporate into your organization to provide affirming, informed and empowering healthcare for the LGBTQ+ community. (Les animamos a unirse a una retransmisión de esta presentación, seguida de un debate a cargo de un grupo de expertos sobre los obstáculos de acceso a los que se enfrentan las minorías sexuales y de género y sobre por qué existen estos obstáculos. Identificaremos herramientas concretas que podrá incorporar a su organización para proporcionar cuidado sanitario afirmativo, informado y de empoderamiento a la comunidad LGBTQ+. )
Simultaneous interpretation will be available. (Este evento contará con interpretación simultánea.)
Please join us and tell a friend! (¡Únanse e inviten a sus amigos!)
Registration is free and required. This event is open to all community members, so please share with others. Seats are limited, so register by April 5, 2022 at 5pm (EST). After registration is completed, a Zoom link for the webinar will be provided the day of the event. For questions call (919) 684-0409 or email aretha.cooper@duke.edu. (La inscripción es gratuita y requerida. El evento estará disponible para todos los miembros de la comunidad. Por favor, compártanlo con otros. Las plazas son limitadas, regístrense por favor para el 5 de abril de 2022 a las 5 pm (EST). Una vez se haya inscrito, recibirá un correo con el enlace Zoom para el webinario en el día del evento. Si tiene preguntas, llame al número (919) 684-0409 o envíe un correo electrónico a aretha.cooper@duke.edu.)
** Please Note: Your privacy is important to us. The following information is requested to complete the registration process. Your name and contact details will NOT be shared. ** (** Tenga en cuenta: Su privacidad es importante para nosotros. Se le pide la siguiente información para completar el proceso de inscripción. Su nombre y su información de contacto NO se compartirá. **)
Thank you! (¡Gracias!)
You have selected an option that triggers this survey to end right now.
To save your responses and end the survey, click the 'End Survey' button below. If you have selected the wrong option by accident and/or wish to return to the survey, click the 'Return and Edit Response' button.